Back
Meet Sennheiser's TeamConnect Family!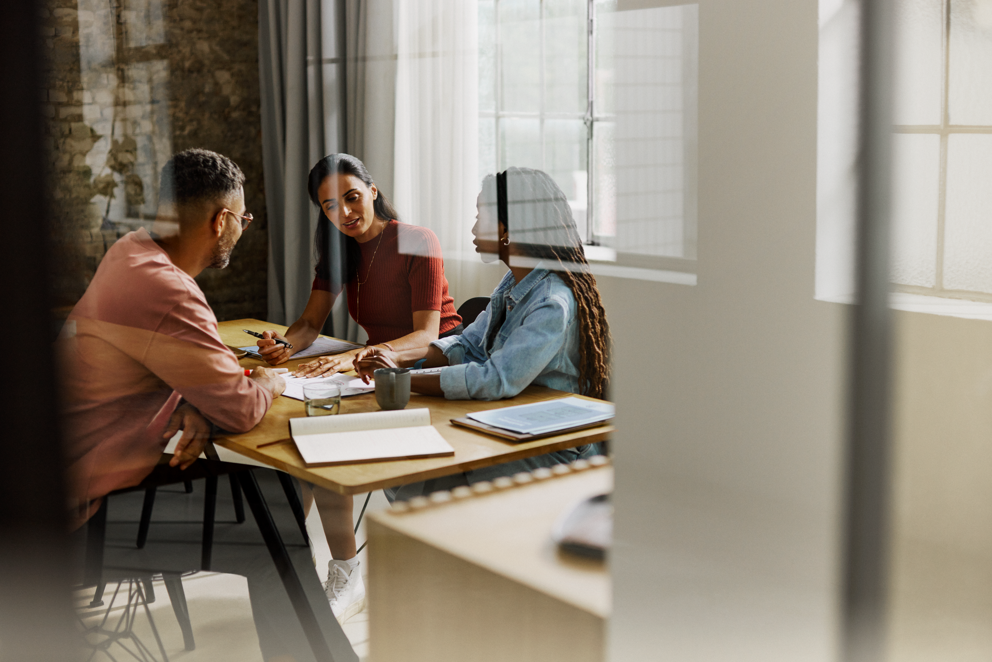 Sennheiser's growing unified communications portfolio facilitates learning and collaboration in businesses and universities around the world.
Since the remarkable introduction of TeamConnect Bar Solutions at InfoComm 2023, Sennheiser's first scalable all-in-one audio-video solution is now officially a member of the unified communications family. And with the addition of the TeamConnect Ceiling Medium earlier this year and more additions on the way, now is a good time to take a closer look at the family and its many benefits for businesses and universities.
TeamConnect Family: 3 strong members "Made for Collaboration"
TeamConnect Family is Sennheiser's agnostic, unified communications meeting portfolio with state-of-the-art technology for every room size and application. Building on over 75 years of experience, it redefines the expectations of meeting and lecture solutions with user-friendly and long-lasting products with modern designs and Trusted Sennheiser Audio Quality. ​ 
Currently (as of August 2023), the growing product family includes:
To unleash the true power of these products and to ensure maximum flexibility for customers, each product can be combined with other compatible Sennheiser or third-party products and are easily configured and controlled with the Sennheiser Control Cockpit.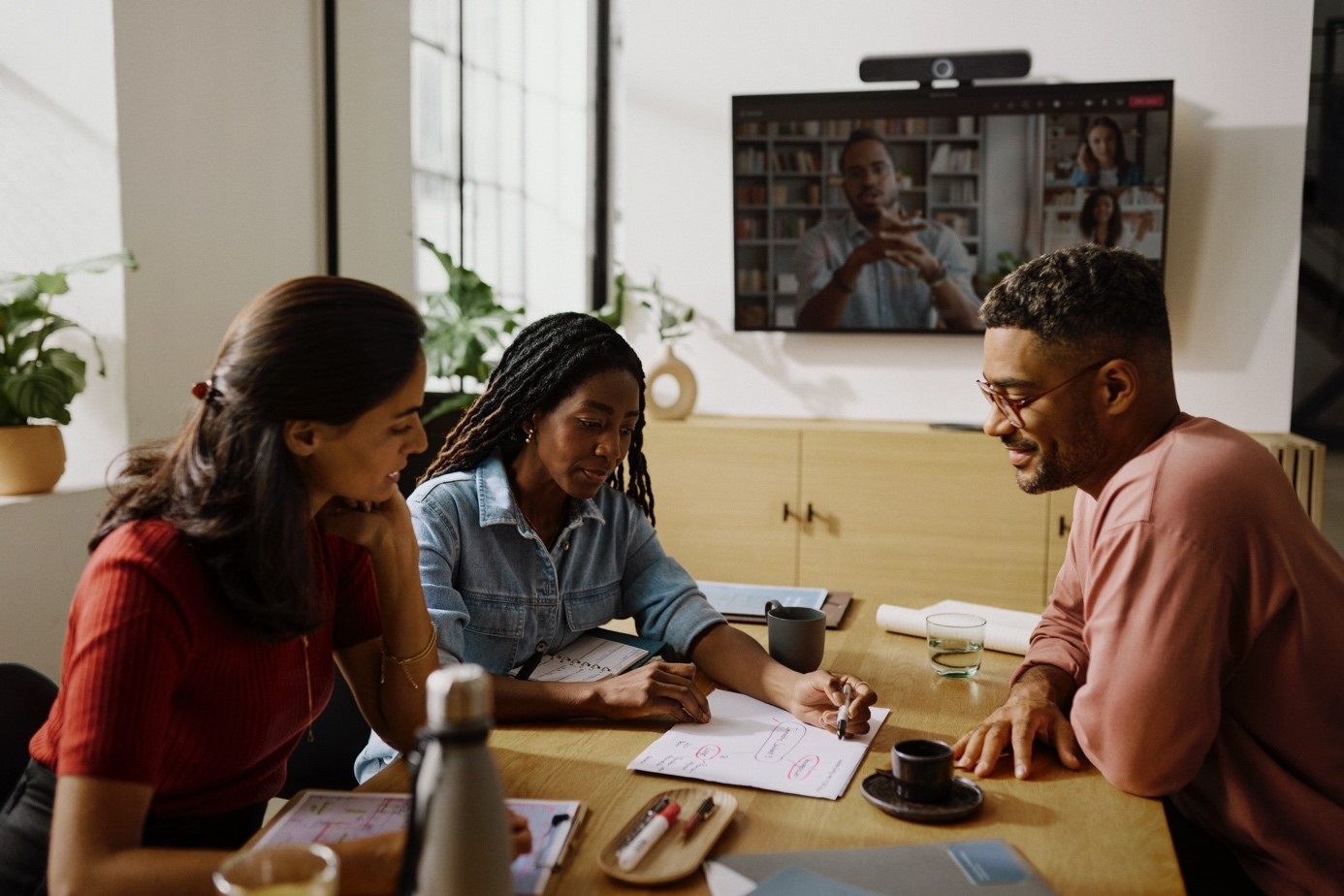 TeamConnect Ceiling Medium: Extending the reach of flexible working and learning
At the beginning of 2023, TeamConnect Ceiling Medium (TCC M) made a splash. The new ceiling microphone was one of the winners of this year's Best of Show at ISE 2023 award in the "Installation" category. The awards recognize and celebrate the best and most innovative products at ISE.
With a coverage of up to 40 m², TCC M is the perfect match for medium-sized meeting rooms, lecture halls or collaboration rooms. With this solution, we present customers with an additional design form of the popular TeamConnect Ceiling 2 (TCC 2), enabling the integration of our ceiling microphones into an even greater range of meeting spaces.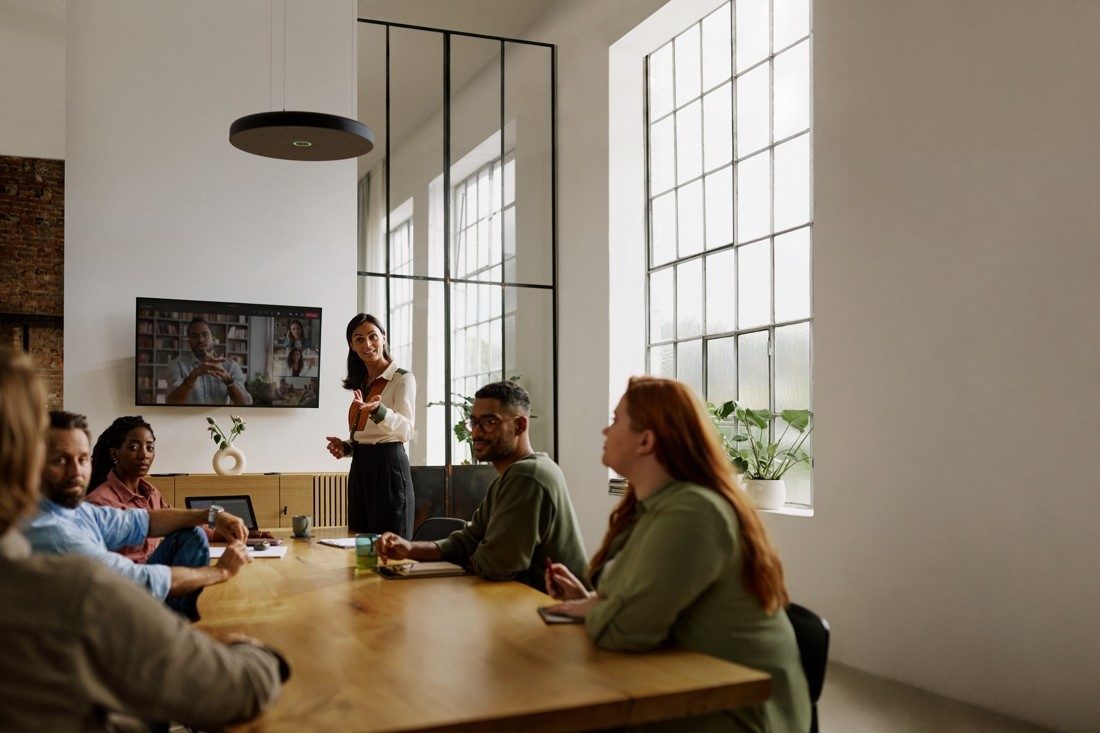 TCC M follows in the footsteps of the award-winning TCC 2 and offers the same innovative features as its bigger brother, such as patented dynamic beamforming technology.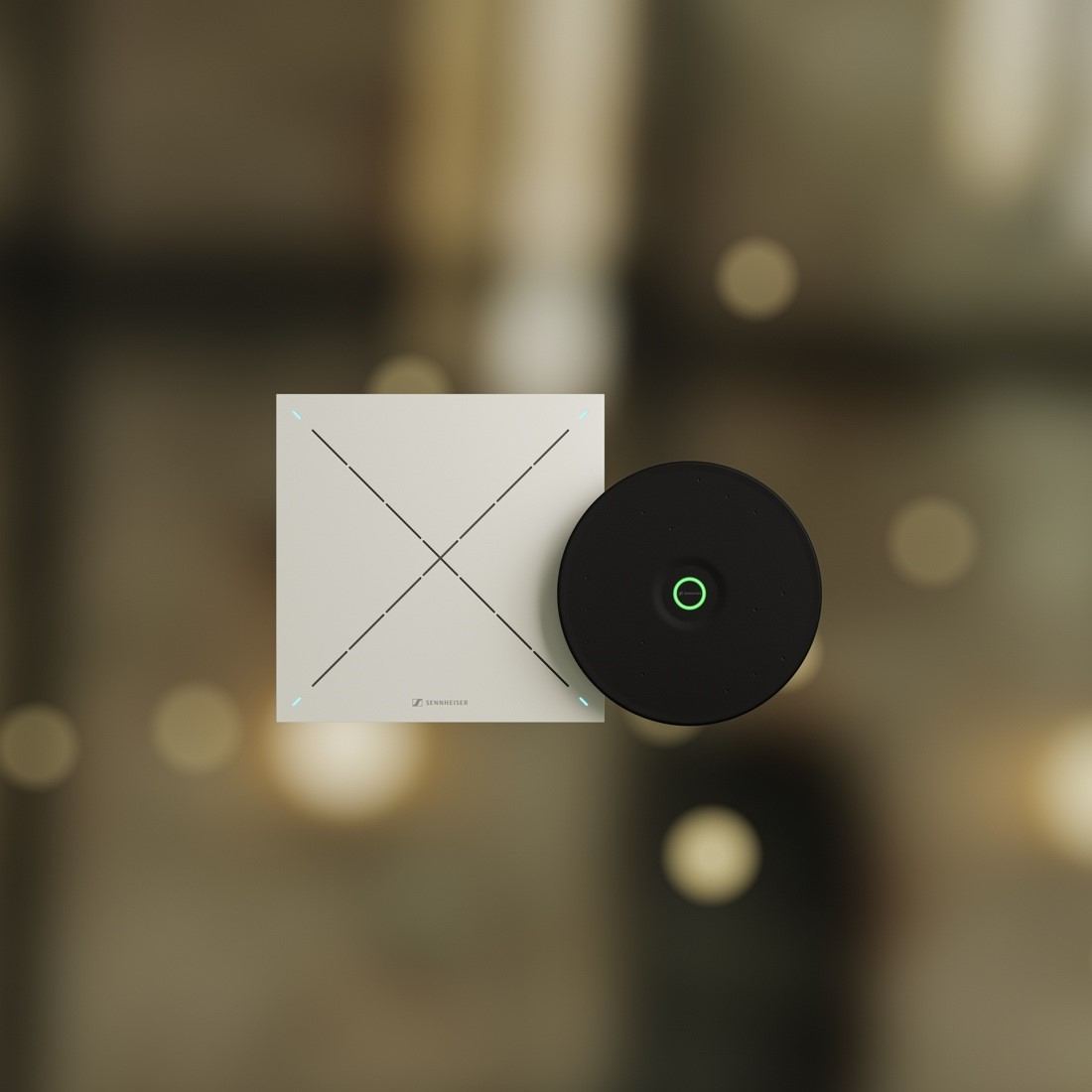 Sennheiser's established and reliable microphone solution: TeamConnect Ceiling 2
With a coverage of up to 80 m², there is no better solution for large meeting rooms, lecture halls or collaboration spaces than the market-leading TeamConnect Ceiling 2 (TCC 2). With its functional square shape, TCC 2 blends stylishly into the design of modern meeting rooms – simply by replacing a ceiling tile.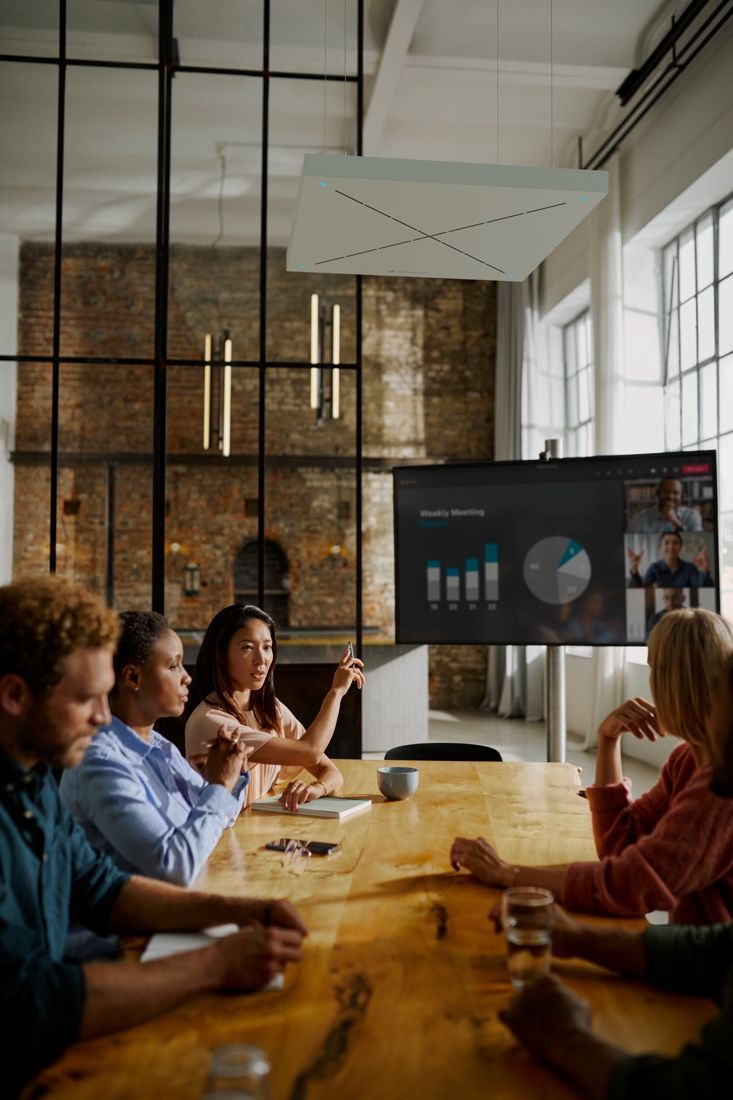 As with TeamConnect Ceiling Medium, TCC 2 is a real problem solver, enabling cable-free tables, flexible furniture arrangement, and taking advantage of TeamConnect Ceiling Solutions features such as Trusted Sennheiser Audio Quality, easy setup, brand agnostic integration, simple management and control, sleek design and lasting impact.
TeamConnect Bar Solutions: When premium audio meets excellent video quality
The TeamConnect Bar Solutions fit perfectly into the TeamConnect Family. Like their "brothers" and "sisters", they are true problem solvers with compelling benefits like easy setup, brand agnostic integration, simple management & control, high video quality, security and longevity in mind. The latest addition to the family offers options for small (TeamConnect Bar S) or mid-sized (TeamConnect Bar M) meeting and collaboration spaces. The TeamConnect Bar S features 4 microphones and 2 speakers, while TeamConnect Bar M has 6 microphones and 4 speakers. ​
​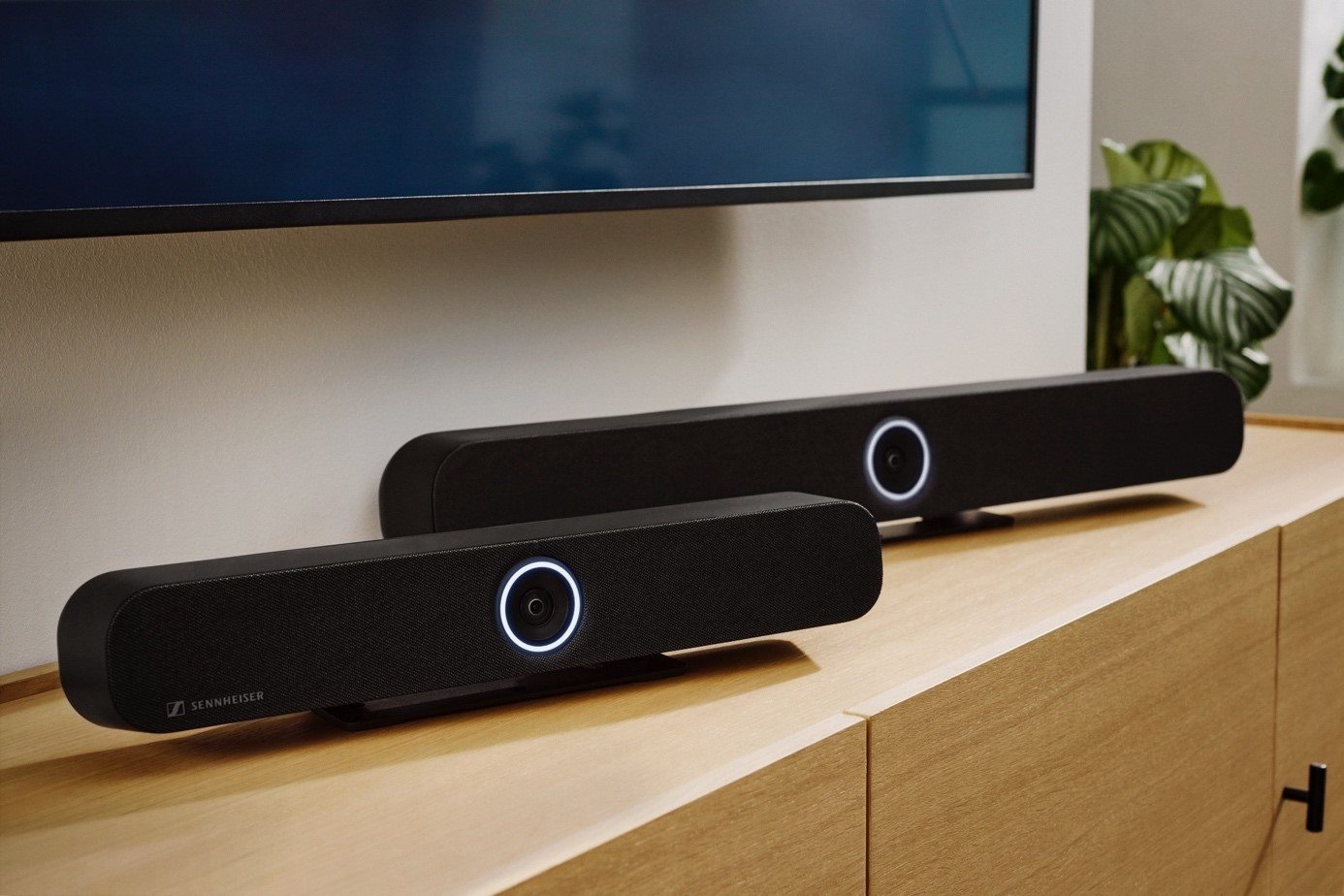 ​Optimized for small Microsoft Teams Rooms: TeamConnect Intelligent Speaker
The TeamConnect Intelligent Speaker (TC ISP) is designed to enable teams to collaborate during hybrid meetings in a whole new way: smart, focused and inclusive. With TC ISP, all participants feel like they're in the same room, fostering seamless interaction. In addition, automatic meeting notes ensure that remote attendees and those with hearing impairments are fully included in the conference experience.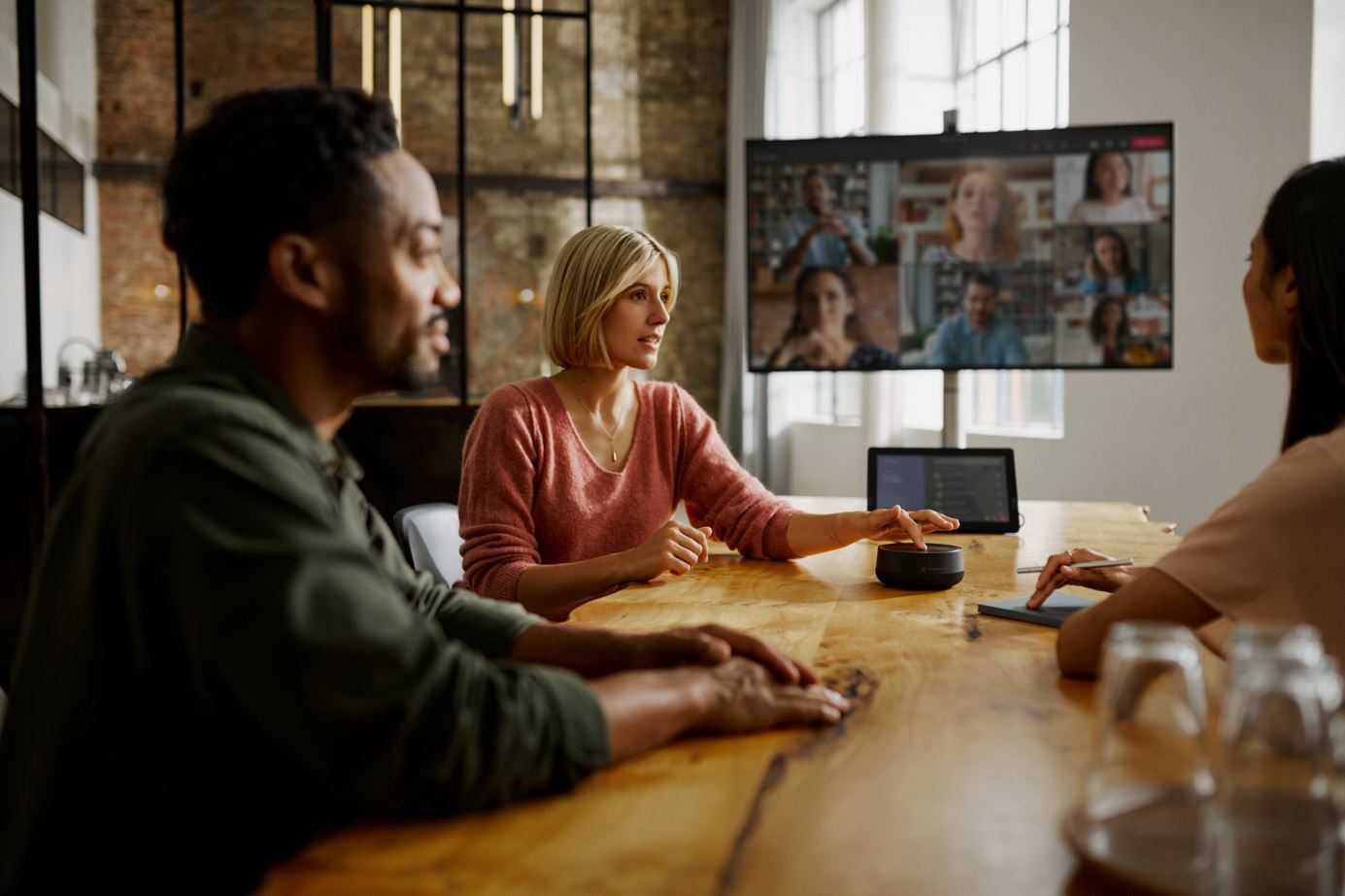 The powerful intelligent speaker with an excellent, minimalist design covers a radius of 2.3 meters with its 7 beamforming microphones and ensures perfect speech intelligibility in every meeting with outstanding double-talk performance.
Designed to keep growing: Exclusive insights into Sennheiser's family planning
As a company that looks back on 75 years of impressive audio success stories in the field of stage and television, we have transferred our high-quality standards and pioneering spirit into the world of collaboration, meetings and learning and are known today as one of the most reliable business partners in the AV industry. Our "creative dissatisfaction" and passion to constantly improve existing solutions characterize all of our outstanding audio solutions.
The development of the TeamConnect Family is a good example of our ambition to create products that are intuitively usable, manufacturer-agnostic and audibly better – while offering real problem-solving capabilities. With state-of-the-art technologies on the inside and appealing design on the outside, TeamConnect Ceiling Medium, TeamConnect Ceiling 2, both of the TeamConnect Solutions and the TeamConnect Intelligent Speaker will redefine the expectations of unified communication, hybrid learning and business collaboration experiences.
If you are curious and want to know how the TeamConnect Family story continues, please follow our journey here or on LinkedIn.
Visit the members of the TeamConnect Family:
TeamConnect Intelligent Speaker