Back
Sennheiser's TeamConnect Ceiling Medium Wins in Pro AV Best in Market 2023 Awards
Sennheiser is proud to announce that the newest ceiling microphone and member of Sennheiser's TeamConnect Family, TeamConnect Ceiling Medium (TCC M), has won an award in the AV Technology category as part of the Pro AV Best in Market 2023 Awards, which were announced late September 2023.
​
What are the Pro AV Best in Market Awards?
The Pro AV Best in Market Awards saw 31 outstanding companies recognized for excellence in AV Technology. The awards aimed to spotlight products that were either new or significantly upgraded in the past 12 months. Entries underwent rigorous evaluation by independent, third-party judges and editorial teams, making this accolade a testament to the exceptional innovation and performance of Sennheiser's TCC M.
Sennheiser's Winning Category
The AV Technology category, which Sennheiser won, represented a highly competitive and vast field of products, including AI technology, LED displays, and speakers. The category also saw some of Sennheiser's Global Alliance Partners secure a win, with Crestron's AirMedia Connect Adapter and Extron's MGP 641 xi multi-window processor both being recognized in the AV Technology category. ​
​​
​TCC M received high praise from the Pro AV Best in Market Awards judges, who claimed,
"TCC M is a product that you won't notice once it's installed but you'll benefit from its presence in your environment. The product excels in environments that other systems can't handle in terms of room size or background noise. When it comes to ceiling-mounted microphone solutions in collaboration spaces, the TeamConnect Ceiling Medium system might just be the best on the market."
What is the TeamConnect Ceiling Medium?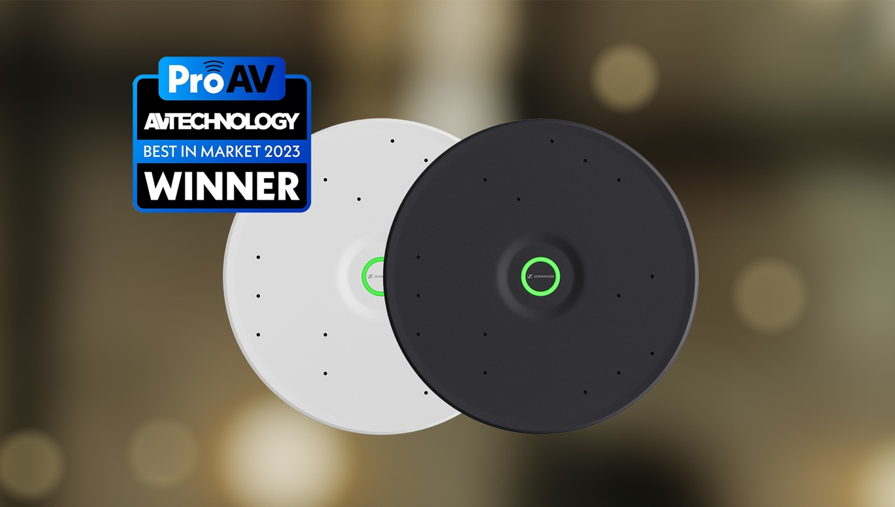 Sennheiser's TCC M is an essential part of the growing TeamConnect Family and is designed to bring unparalleled audio quality to your small to medium-sized meeting spaces.
​​
​TCC M seamlessly complements its big brother, the TeamConnect Ceiling 2, and the rest of the unified communications solutions portfolio. Embodying Sennheiser's core values of reliability, consistency, and the precision of German engineering and featuring advanced dynamic beamforming technology and TruVoiceLift with 15 Sennheiser capsules, it covers areas of up to 40m² for perfect speech intelligibility. ​
​​
​Explore the incredible capabilities of Sennheiser's TCC M today!